Stephanie Brown
in the Batcave anytime soon.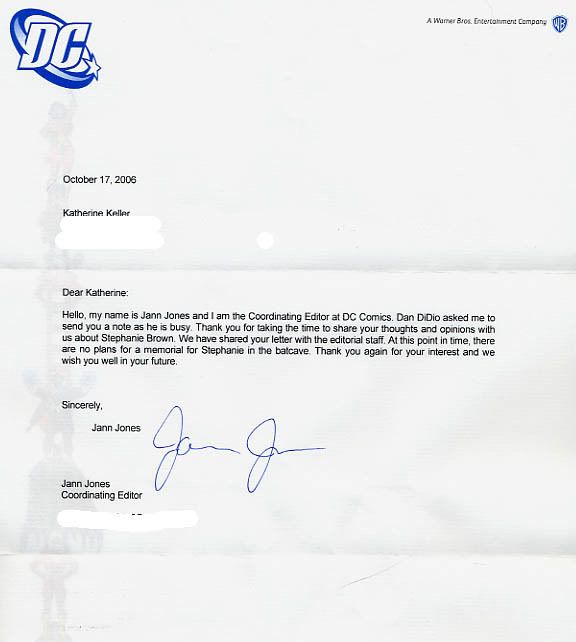 So this means one of two things:
1) Stephanie Brown faked her death and we'll be seeing her back in the DCU.
or
2) Dan DiDio (and senior DC editorial) are a bunch of double standard lovin' sexist mofos.
So, Dan (and DC), which is it?
Because this issue? It is
NOT
going away.
ETA: Why this matters to a lot of people
So, why are we all up in arms about a fictional character? Because in many ways the story of Stephanie Brown illustrates the ways in which girls/women are marginalized both in fiction and in real life.
Because it's so
Incredibly. Glaring.
when she has no permanent memorial of any kind (but Jason Todd -- the boy who returned from the dead -- still has his prominent, repeatedly-featured-in-current-stories shrine); when her tragic and brutal death has been
barely acknowledged
by her comrades in arms, mentors, and friends; when her former boyfriend Tim Drake spends more time mourning the death of Superboy -- and tries repeatedly to clone him back into existance -- than he ever spent mourning her death.
Because having somebody else possibly pick up the mantle of the Spoiler is still not enough.
Because there has not yet been a single, logical explanation for why her mentor (Batman) held her to a different standard than the boy Robins and why he has neither mourned nor memorialized her -- despite his actions playing a
huge
role in the chain of events leading to her death.
I got sent a letter from DC comics when I, as part of team girl-wonder.org, sent a postcard asking if we'd be seeing a memorial for